Hello, everyone. Thought I'd do a garden update today, and post some pictures. The beans are through, as are the zucchini, sugar snaps, and onions. The weird weather we've had around here this summer was not kind to the green beans, and the zucchini had a short growing season. Got some lovely elephant garlic however, and further into this post I'll share a recipe I served last night. I cleared out the zucchini box, and have readied it for a second planting of beans.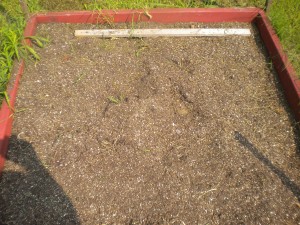 Around here you can actually plant beans twice. We generally don't get a frost until the middle of October, and that gives us almost a second 3 month growing season. When you plant bean seeds in July, you will want to plant them deeper than you do in the spring. Think 3 inches as opposed to 1 inch. This helps the seeds get the needed moisture for germination that they won't get from soil nearer the surface.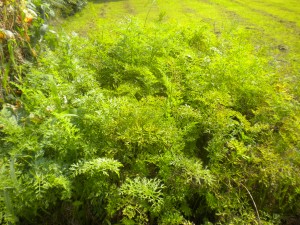 Now here's our carrots. They were planted in a double-height garden box. However, we planted the same type of carrots which would work well if they are planted in a single height box. They are Chantenays, and are a shorter, rounded carrot, but still full and really sweet. Don't they look lovely grown the square foot garden way? Like a bouquet of ferns. I've already gotten a few dinners worth, and soon it will be canning time for them.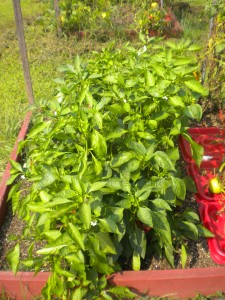 Now for the green peppers. They are growing like weeds! We've gotten some beautiful peppers, great for stuffing (I did). Soon I'll have to start chopping and freezing them. Again, they look like a lovely bouquet of greenery!
The tomatoes have done well, also, but the weird weather has affected them somewhat. We've been getting our rain in huge chunks, with large expanses of nothing in between. But that's OK. When I made stuffed peppers the other day, I was able to use our own tomatoes for the sauce, our own onions, and our own green peppers. It doesn't get any fresher than that!
OK, here's the recipe I wanted to share with you. It's quite simple, in the traditional Italian way. Take a head of garlic, cut in half. Drizzle  little olive oil over it, and put it cut side up in the oven, loosely covered. Bake for about 45 minutes at 350 degrees. What I actually did was to bake the elephant garlic that I harvested, about 4 cloves. Cook your favorite pasta, about 4 ounces.  I used rigatoni just because I had some. When the garlic is soft, squeeze it into a bowl with about 1/3 cup of olive oil. Either whisk it together or use an immersion blender to homogenize the mixture. Salt to taste. When your pasta is done, toss with the garlic mixture. Add about 1/2 cup Parmesan cheese and toss again. This will serve bout 3-4 people as a side dish. I served it with a simple meat loaf and some carrots (from the garden, of course!)
One last picture. I have several hanging plants on my front porch. They are fuchsias, and the weather had not been kind to them. They are bouncing back and re-blooming now, however. Anyway, I was watering them a week ago and discovered a nest in one! I thought it was a bit late in the season for nesting activity, and that it perhaps was abandoned. Much to my surprise, today when I watered, I discovered three eggs! I watered very carefully so as not to disturb them or chill them unnecessarily. Not sure what the parent bird is. I saw it flying away at one point, and maybe its a wren. Here's the shot: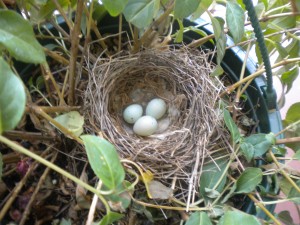 See you next time!