So I wanted to digress a bit from my usual postings, and talk a bit about volunteering. I know President Bush's "Thousand Points of Light" is a dim, dark memory, but the difference you can make in someone's life is simply unarguable. Several years ago I volunteered to take over heading up our church's food ministry at a local homeless shelter. Our commitment is only once every 7 or 8 weeks, one meal for about 200 people. I have a background in cooking for large groups of people, both through my sister and my catering company and through my historical cooking for the Society for Creative Anachronism.  What apalls me is that it took me so long to realize that I needed and was needed to do this. I plan the menu, do the shopping, and herd the volunteers who show up to help. What a wonderful feeling of fulfillment! I've met so many wonderful people, caring and also needing. It's in that way that we help each other. I've given, but I've also received.  The fact that you can make a difference in someone's life by just being there, showing someone that you care about them, and making their quality of life just a little bit better.
There are so many organizations that need help. Hospitals, shelters, nursing homes, teen centers, most cities nowadays actually have clearing house centers that help point you in the right direction if you tell them what your skills and interests are. And it doesn't have to be a huge committment of time. Think about what you have to offer, that might help out someone in need. It might be something as simple as doing a few loads of laundry for a shelter that doesn't have a washer, or reading letters to an elderly person who doesn't have much eyesight left. You see–you can do this!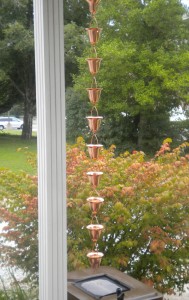 OK, now for something completely different. We just got a rain chain and I wanted to show it off a bit. It replaces your downspout, allowing the water from your gutters to flow down a series of vessels which slow down the speed of the water flow. In our case, they will be ending in a rain barrel, with a specially designed hose attachment which will allow me to fill up a watering can! I'm going to create a bungee cord system which will attach the bottom of the chain to the barrel, keeping the chain from swinging in the wind. The chain is solid copper, and will patina beautifully over time. I'm so excited over the effect that I think I will get another one to put at the other end of the house, thus bracketting the house in copper. I had not planned this, but my porch floor is actually a coppery melon color, so everything coordinates! And that's a Burning Bush seen behind the chain, which soon will be turning a lovely coppery-red color. (It's already started). I love to sit on our deep front porch when it rains, and seeing and hearing the rain chain is going to add to that.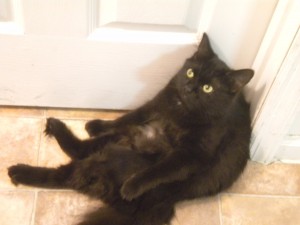 OK–one more thing. About 8 months go, we adopted a rescue kitten. She's black with just the tiniest bit of white on her belly. As a kitten she was more brown than black, thus earning the name "Cocoa", because she looked like bittersweet chocolate. She's now blackblackblack, so her name hs changed to "Coco", after the designer Coco Chanel. We caught her in an amusing position the other day–not sure why she was sitting like this.
Come on–life's too short not to share the love, and the laughter, too. Think about what I said about volunteering. You won't regret it.
See you next time!